1970's
24th January 2016
After digging around online, I found an article in a local Leicestershire magazine called Thrussington Life, about Murphy's second registered owner, Mr Alan Jinks. Unfortunately, Mr Jinks had sadly passed away in 2013, so incase the magazine disappears from the Internet, here is the PDF file, and text from the May 2013 article, below:
Welcome to the May edition of Thrussington Life. Over Easter we lost one of our volunteers and contributors to the magazine. My memories of Alan Jinks are fond ones, he was so energetic and I remember being amazed when I saw him celebrating his birthday this year that he was 80! Our thoughts are with Paula and their family.

Alan Michael Jinks was born 1st Feb 1933 at Strood in Kent and was the only child of parents Wilfred and Constance. They moved to the area of Humberstone Leicester in 1940, when he was 7. Alan went to Humberstone Junior School and then Wyggeston Boys Grammar School. He played Rugby and after he left played for the Oadby Wyggs. Alan had a strong connection with these all of his life. A few years ago he was president of the Wyggeston Old Boys Association and at the time of his death was vice president and life member of the Oadby Wyggs Rugby Club. His grandson Harry now plays for the club.

After school he took articles at the local firm of Bolton Bullivant and qualified as a chartered account in 1958 and eventually became a partner in the firm. Subsequently the practice merged with the international firm Price Waterhouse. Four years after that in 1973, Alan together with two colleagues set up the practice of Jinks & Co initially on the New Walk before moving to London Road. He met Paula at a Cricket match at Grace Road in 1954 and they were married in 1958. They set up home in Davenport Road, Evington before moving to Thurnby in 1977. They had two sons David in 1961 & Martin in 1963 both sons followed Alan to the Wyggeston School and also became Accountants despite vowing they never would. Martin eventually joined Alan at Jinks & Co. It is interesting to note that although Alan has been retired for some time, Martin has received numerous letters from his old clients expressing condolences. These letters show what high regard they all had for Alan. Alan along with his sons was active members of the Scouts and this was where he met many lifelong friends.

Once Alan finished his sporting activities he was drawn to Freemasonry and he threw himself at fully. They moved to Thrussington in 2001 and both Alan and Paula quickly became involved in the community and village life and were warmly accepted. It did not take long for Alan to chat with the Landlord Bob, and find out he was a Rugby fan and that he arranged trips to matches (usually for men) but Paula went along as an "honorary bloke" and enjoyed many weekends following the Leicester Tigers around Europe.

Recently at his 80th Birthday celebrations, Alan honestly stated that for both of them the past 12 years in Thrussington had been amongst the happiest of their lives. Alan knew some ten years ago that he had a weak heart but was not prepared to be wrapped up in cotton wool. He loved life and never grumbled or complained, he was always optimistic – the only down side was that he liked traditional Jazz and some of his jokes were pretty awful. All in all, Alan was the just the type of person everyone wanted to be with.

He will be sadly missed.
Since this article mentioned Alan's son's David & Martin, through the power the Internet and social media, I was able to find them online and took a chance in writing to to them on the 10th November 2015. Imagine my pleasant surprise when I received the following response from David Jinks:
Hello there,
Not much to add I'm afraid – except that I believe the original colour was ice white.
My mother had it resprayed a vibrant red shortly after taking ownership.
Although good for my mother it was not so good when it came to trade in ..the garage was very suspicious as to why it had had a respray …thinking customers would presume it had been in an accident or similar – it wasn't !

Best of luck with your endeavours – if I come across a photo I will forward it.
PS My overriding memory is squabbling with my brother over whose turn it was to sit in the back !

Best wishes
David J
A few weeks later, I received the following message from David's brother, Martin:
Osman,

I am not sure how, but am impressed, that you tracked me down as the car's owner. It was in fact my mother that had the car – I was too young to drive but remember it well. It was indeed red when we had it in the mid to late 70's.
My mother is still with us, I shall ask her if she remembers anything.
I am fairly certain that we did NOT give it a name though :-).

Martin
I was overjoyed, but at the same time conscious that this may have freaked Martin out a little, so I replied:
Hi Martin,

Thanks so much for getting back to me.

I applied to the DVLA using a V888 for the cars history file, and they sent me a pile of information, such as previous registration documents, and road tax applications. It was from this information that I obtained your father's name and old address, but then through publicly available information and online research, discovered that he'd sadly passed away.

It was in an article in Thrussington Life, that I found reference to you, your brother David (who I've also written to), and your mother.

If your mother has an old photograph of the car that she is willing to allow me to put in my history file, and on my website, that would me most appreciated, (a scanned in copy is fine). Any facts, memories, etc, that she may recall would be nice, as it all builds the picture of this lovely little car's history.

I look forward to hearing from you again soon.

Best regards,
Osman
Christmas and New Year passed, and I'd almost given up home, when on the 24th January 2016, I received the following:
Hi,

I was with my mother over the weekend and she had found the attached photos – don't know whether they are of any interest or use?

The photo's would have been taken in the late 70s – the house in the background we moved to in Spring 1977 and you will probably know better than me when Mum sold the car – probably just after May '78 when my brother started driving lessons?

At that point she purchase a Ford Escort, Popular Plus (EBC 12T) – a car I later wrote off – a bit of a come down.

Interestingly, she remembers that the car was originally white – she had it re-sprayed to the red.

She also seems to recall that she was the second owner; the first was a chap, who, with his own brother, bought identical cars with consecutive number plates.

Martin
To receive this was absolutely amazing, as I always knew that tracking down photos of an old car from the 1970's wouldn't be easy.
It is with the deepest gratitude that I would like to thank Martin Jinks for for replying to me, despite how strange it may have seemed. I would also to thank his mother, Paula Jinks, for digging out these old photos that have helped build the history file of this amazing little car that I am now so proud to own today. They have made this classic car fanatic a very happy man!
I hope other classic car fans read this with enjoyment, and hope they too find the inspiration to uncover the past of their cars. As I see it, it's not just a car, it's a piece of history, with a past, a story. These old cars have touched lives along the way, on a journey that today has found them in the hands of enthusiasts that work hard to keep them going strong 🙂
---
18th November 2014
All I know right now of Murphy's beginnings is from the only 1970's document I hold, which is the MG "Passport to Service" document that accompanied the car at the time of initial sale. I guess in many ways, I'm lucky to even have that.
What this document tells me is that Murphy was initially purchased by a Mr R.G. Sharpe of Sutton Bassett, Northants on the 10th June 1972, from Latham's (Leicester) Limited, Belgrave Gate, Leicester.
There are a few service stamps in the booklet, giving an indication of early life, as follows:
Entry 1: 9th June 1972, was a pre-delivery inspection by Latham's on the day before the sale date written at the front of the book. Interestingly, it shows 1660 miles on this date, which might seem strange for a new car, but I notice this is written in a different pen, similar to the second service entry. I think this was written here in error, and the actual mileage must have been close to zero.
Entry 2: 30th June 1972, 1,000 miles service, also with the Latham's stamp, but no mileage written here. Give, as mentioned above, the same pen was used, I assume the actual mileage was 1,660 miles.
Entry 3: 6th September 1972, 3,000 miles service, this time serviced by The Regent Autocar Co. Leicester Road, Market Harborough. The mileage written here is 7,118 miles.
Entry 4: 9th November 1972, 12,000 miles service, again by The Regent Autocar Co., and the same engineer, (Andy?). The mileage here was 11,456 miles.
Below are the pages from the "Passport to Service" booklet, as detailed above:
Whilst I've so far failed to find any details specifically about Mr Sharpe, I did find an newspaper cutting of an advert for Latham's in 1975, which may well be they type of thing Mr Sharpe spotted in his newspaper at around that time: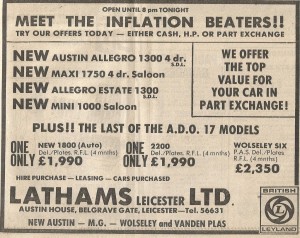 I also found an article in the Leicester Mercury from 23rd May 2013, titled "'Nineteen extra problems' for the Leicester motorist of 1970", with a photo taken from Latham's car showroom at the time. This may well have been the type of view Mr Sharpe saw at the time, though I'd hope the works were finished by the time he made his purchase two years later!
The nice thought is that this may have been the first "official" road Murphy set his tyres on with Mr Sharpe all those years ago, with the same buildings in the background.
Incase this gets pulled online, rather than only providing a link to the article, I've also copied it here for my archive:
Today, it's impossible to see this view of Leicester's Belgrave Gate as the huge concrete flyover obliterates it. Here, in May 1970, we see what you may be forgiven for thinking is the beginning of the destruction of the roundabout for the erection of the flyover – but that's not the case.
The photo, which was taken from what was then Latham's car showroom, was intended to draw attention to the forthcoming traffic chaos, which was expected to last six months, while a new 36-inch sewer pipe was laid between Abbey Street and Melton Street.
It's an interesting picture, as it shows in the centre what was once the Belgrave Gate Methodist Church, converted in the 1930s to the Co-op Hall.
It lost its twin towers on top of the square flat roofs at the front, along with the central arched window and pointed pediment above. It is now a rock music nightclub.
To the right, is a poignant reminder of Leicester's great days as a hosiery powerhouse – Corah's, on Burley's Way, now sadly neglected and vandalised, but then a well-kept frontage to what was one of the largest hosiery factories in England.
After describing what was being done, the picture caption goes on to say:
"To complicate matters, 19 crossings of the road will have to be made in this stretch to lay side connections to the giant new sewer.
"This will, of course, mean 19 extra problems for motorists, in addition to the hold-ups likely to result from the main sewer excavations along the route.
"As a start to the work, a bulldozer has already started a wide trench across the centre of the roundabout, always regarded as one of the most attractive in the city. Shrubs, trees, flowers, turf and ornamental stones have been ripped up, leaving a scene of desolation on what was, until a few days ago, an attractive green and leafy oasis amid the swirling traffic."
You get the strong impression the writer is not happy about all the destruction, although his reference to "swirling traffic" might seem rather exaggerated when looking at this photo and comparing it with the endless parade of vehicles we see in the same spot today.
The writer continues: "Even when the main sewer and connections are laid, more is to follow. For, in January next year, the surface will be taken up on the opposite carriageway so that smaller rider sewers can be put down."
But the disruption caused by the sewer must have paled into insignificance compared to the chaos created when building the flyover!