MGB GT Clutch Types
It turns out there are two clutch types available for the MGB GT…
The standard version, HK9649, (see pic below, which features the carbon thrust bearing), and the heavier duty type, HK9679.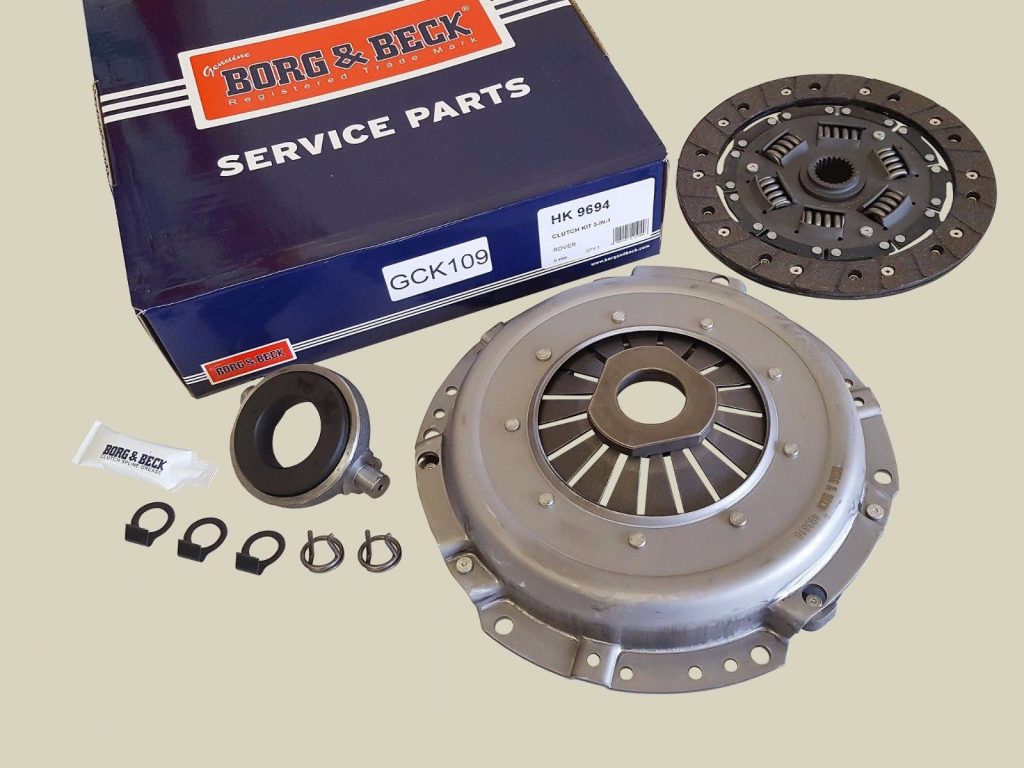 Here's the summary…
HK9679 (Heavier Duty Version):
Heavy Duty Fits all 63-80 MGB's & MGB GT's.
This clutch has stronger pressure plate diaphragm springs. The clutch disc is heavy duty as well. Also comes with a ball-bearing type clutch release bearing. This clutch will withstand heavy duty or high-performance use. =Suitable For MGB & MGB GT Fitted With 1800cc Engine. 1971 – 1981. Clutch Size 204mm (Heavy Duty Ball Release Bearing)
The HK9679 has smaller driven plate friction linings as the larger linings were prone to judder.
The reference numbers of this kit are…
– HE3517 cover assembly
– HB8752 driven plate.
– HD9108 roller release bearing
HK9694 (Standard Version):
Includes the pressure plate, disc, and release bearing. It will fit any 1963 – 1980 MGB or MGB GT. These clutches are a little bit cheaper than HK9679 clutches.
The HD may be referring to Heavy Duty, as the standard version of the kit; HK9694 which has a different cover, drive plate and the old type carbon release bearing (HD3317).
The HK9694 reference numbers are…
– HE3331 cover assembly.
– HE9711 driven plate.
– HD3317 carbon release bearingThis is the second time in five years that the carbon thrust bearing has shattered, and I wonder if the judder mentioned above has anythng to do with it. The first I suffered this issue was soon after I purchased the car, (it hadn't been driven much prior to my purchase), and then again the other day after not being driven for a year. Whilst I can't tangiblhy prove this, I also wonder if the standard carbon bearings don't like being laid up, and maybe seize up if not driven regularly. Please note: I don't know what make the original (shattered) clutch was, so the picture of the Borg & Beck clutch is for reference only.
My recommendation, however, if you're a daily drive like me, is to go with the HK9679, as this seems to the heavier duty version.
I'll update this blog on how it goes…